Cruise Planning
You may find some of these resources useful when planning a cruise.
Weather
Environment Canada Marine Forecast These recorded forecasts are available from the internet, VHF radio weather channels or by telephone 250-363-6492.
Sailflow  Here is a site that does all your predictions for weather, wind, tide & current. You can register and make your own Sailflow page customised to your needs. For local observations select "Sisters" from the drop down menu on the top right corner of the Sailflow page. 
Barometric Weather Forecaster Chart
Tides & Current
Fisheries & Oceans Canada Tide & Current tables are available on-line and in printed copy
NOAA  For US waters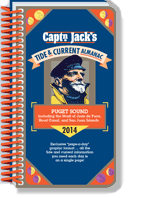 Capt'n Jack's Almanac  Tide & Current tables for Puget Sound, Straight of Juan de Fuca, Deception Pass and San Juan Islands
Ports & Passes  Tides, Currents & Charts for BC & Washington
Charting
CHS  Canadian Hydrographic Service produces paper and electronic charts for Canadian inland and coastal waters. See Chart 1 - Provides explanations of the symbols, terms and abbreviations used in CHS nautical charts. 
Notmar  Canadian Coast Guard site provides you with the necessary information to update all of your charts and nautical publications. It will advise you of new initiatives, services and also of some important announcements concerning the maritime community.
NOAA  United States National Oceanic and Atmospheric Administration produces paper and electronic charts for US coastal waters.
C-Map  Produces electronic charts for use on chart plotters, mobile devices and computers. Worldwide coverage
Navionics  Produces electronic charts for use on chart plotters, mobile devices and computers. Worldwide coverage.
Sailing Directions & Coastal Pilot Guides
Sailing Directions  Canada:   Sailing Directions are the indispensable companions to charts. A great tool for planning and assisting in navigation, Sailing Directions provide information that cannot be shown on a chart. 
Coastal Pilots   US:  The United States Coast Pilot® consists of a series of nautical books that cover a variety of information important to navigators of coastal and intracoastal waters and the Great Lakes. Issued in nine volumes, they contain supplemental information that is difficult to portray on a nautical chart. Topics in the Coast Pilot include channel descriptions, anchorages, bridge and cable clearances, currents, tide and water levels, prominent features, pilotage, towage, weather, ice conditions, wharf descriptions, dangers, routes, traffic separation schemes, small-craft facilities, and Federal regulations applicable to navigation.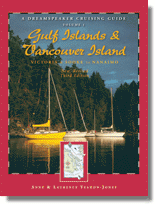 Cruising Guides
These popular guides may be purchased on-line or at most marine book stores.
Dreamspeaker Cruising Guides, Laurence & Ann Yeadon-Jones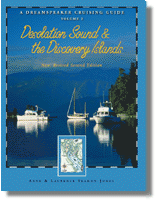 Volume I-Gulf Islands & Vancouver Island
Volume II-Desolation Sound & the Discovery Islands
Volume III-Vancouver, Howe Sound & the Sunshine Coast
Volume IV-The San Juan Islands
Volume V-The Broughton Islands
Volume VI-The West Coast of Vancouver Island
Waggoner Cruising Guide, Robert Hale, Olympia WA. to Ketchikan, AK....Published Annually
Exploring Series, Douglass & Hemingway-Douglass
Exploring the San Juan & Gulf Islands
Exploring South Coast of BC-Gulf Islands to Blunden Harbour
Exploring the North Coast of BC-Blunden Harbour to Dixon Entrance & Queen Charlottes
Exploring Southeast Alaska
Best Anchorages of the Inside Passage, Ann Vipond & William Kelly
Cruising the Secret Coast, Jennifer & James Hamilton
Charlie's Charts North to Alaska.....Victoria, BC to Glacier Bay, Alaska
Peter Vassilopoulos' Series
Anchorages & Marine Parks...San Juan Islands to Ketchikan & West Coast of Vancouver Island
Docks & Destinations....Puget Sound to Ketchikan & West Coast of Vancouver Island
Gulf Islands Cruising Guide
North of Desolation.....to the Broughton Islands
Cruising Guide-Charts
The Inside Passage-South Portion, Fine Edge Publication...Columbia River & Puget Sound to Grenville Channel
The Inside Passage-North Portion, Fine Edge Publication...Northern BC & SE Alaska and Queen Charlotte Islands
BC Inside Passage-North, BC Coastal Waters Recreation,....Bella Bella to Alaska Border
Reciprocal Moorage
Take advantage of our reciprocal moorage benefits when visiting other yacht clubs. Moorage may be available at no cost, for at least one night, and you will have access to all club facilities. Check with each club; terms and conditions vary. Don't forget to carry your DBYC membership card and to fly your club burgee.
Note:
Most clubs do not take reservations for reciprocal moorage
Yacht club outstations are usually not available for reciprocal moorage
Safety   
Float Plan  When going out boating, make sure someone knows where you are going and when you plan on returning. Fill out a copy of this form and leave with a friend.
Darwin Award Winners  Boating safety tips.